The Cathedral Shop is located on the north (river) side of the Cathedral and is accessible from the West Entrance, Lancelot's Link and the Millennium Courtyard
Opening Hours
Sunday
10.00am - 4.00pm
Monday to Saturday
10.00am - 5.30pm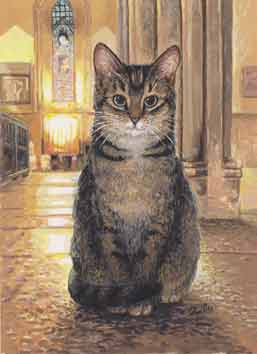 The Shop stocks a delightful range of greeting cards, books, cards, CDs, gifts, pictures, confectionary, souvenirs and jewellery including our popular Doorkins Magnificat range of gifts depicting the wonderful painting of Doorkins by the artist Celia Pike.
Further information about Doorkins Magnificat can be found here
Online Shop
Click here to see a selection of products which can be purchased from our online store (this function will be coming soon).
Artpeace Zimbabwe
We are delighted to stock magnificent sculptures made by sculptors from the Artpeace Co-operative in Zimbabwe. These handmade sculptures make a unique gift with proceeds going direct to the artists to support them and their extended families.
Further information on Artpeace can be found here
Contact Details
The shop can be contacted on 020 7367 6710 or by email
All profits generated by the Cathedral Shop are used to help maintain the ministry and fabric of Southwark Cathedral.